Bangladesh Railway online ticket is the best and most convenient way to book your train tickets. You can book your tickets anywhere and anytime with just a few clicks. Plus, you'll get great deals on tickets!
The E train ticket online booking system has just been published in Bangladesh! On 26 March the Railway Minister of Bangladesh announced that the railway e-ticket booking system was now being redesigned by Shohoz. Previously, the e-ticket system was formed by the CNS BD Company.
Bangladesh Railway's Online eTicket service will stop purchasing tickets online from March 21 through March 26.
Online eTicket bookings will have to be made on March 26, 2022.
According to BD Railway, people who wish to book tickets online must first register for an account on the website, https://www.esheba.cnsbd.com.
In the past, people booked their tickets through this website, but now it has been closed off.
Now people should go to this site www.eticket.railway.gov.bd to purchase it online. But initially, individuals need to register on this site. The registration process is just one time.
According to the Bangladesh Railway announcement, registrations for train tickets will take place starting on 26 March and you can take advantage of online bookings on 27 March at 8 AM.
Here it is announcing that Bangladesh Railway is introducing a new online reservation system for train tickets.
How To Register Bangladesh Railway Online Ticket Website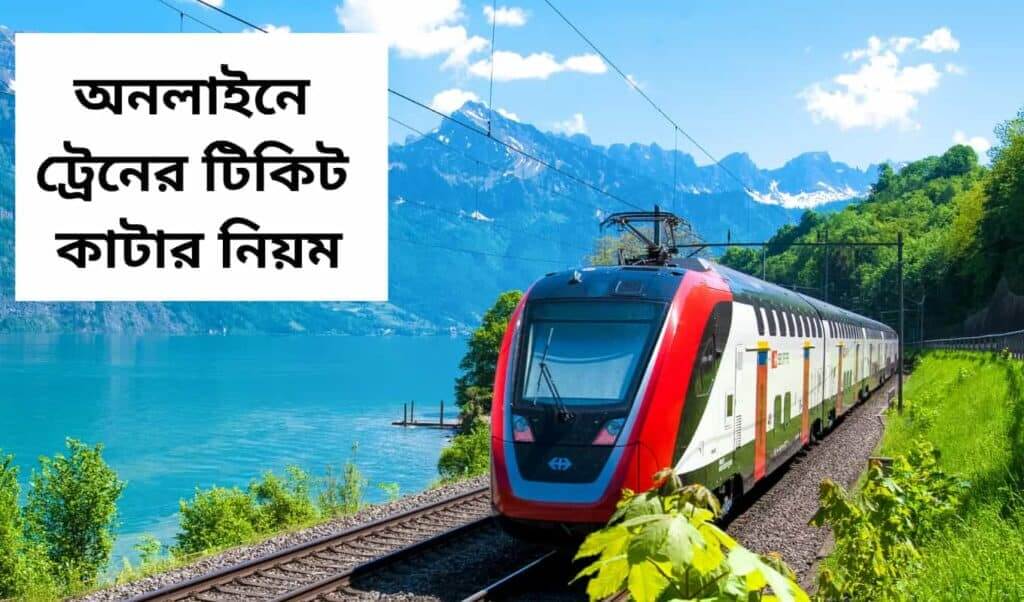 In the past, this service was set up by CNSBD, but now Bangladesh Railway E-Service has been made by Shohoz.
Formerly, it was no longer possible to register via the Internet, but now this can be done with the new workflow.
On March 26, the registration procedure for BD online Train Ticket 2022 will be a star. So that you know, the registration procedure for BD online Train Ticket 2022 begins with the year 2022.
On the first visit, go to https://www.eticket.railway.bd and then scroll down.
At the bottom of the page, click on the Registration button.
Then choose to Create a New Account. After clicking on the options the website will provide a new page.
Provide personal information such as your name, date of birth, national ID number (our birth certificate number), address, mobile number, and email address on the next screen.
Click Submit to receive the security code on your phone. Enter the code and click on Registration.
Then you will receive a mail at your email address.
Click on the link to complete the registration procedure for the Bangladesh Railway Booking system.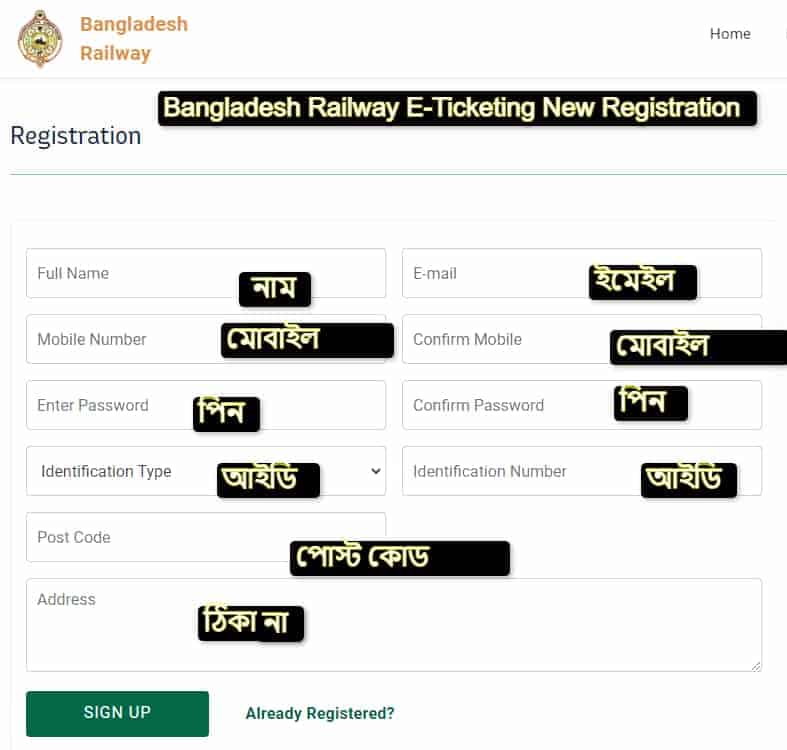 According to the step, it is possible to successfully register to buy a train buy an online ticket in BD.
After completing the task, it will be possible to book a Bangladesh train online ticket.
Bangladesh Railway Online Ticket Purchase New System
Bangladesh Railway changed its process for booking train tickets online as well. It has made a few modifications to its method of e-ticket execution.
Now Bangladesh Railway provides a new ticket purchase procedure for the Bangladesh Railway.
The regulation and purchase procedure are available on the BD railway website.
Go to BD Railway's new website at www.eticket.railway.gov.bd.
Then log in using your email, password, and security code.
Once you are logged in, click on Purchase.
Then select your Journey Date, Starting Station, Destination Station, train class, and the number of seats.
Then the website will display how many seats are available on the date and "Train Name". Step 6: If a seat is available, you can click the link to purchase it.
You can select your seat automatically or manually.
Select your seat and confirm your seat booking.
You must pay a fixed amount upon booking your ticket.
Once you have paid the ticket, your name, card number, and bank account will be claimed.
You may use a credit or debit card and mobile banking accounts such as bKash, Rocket, and BRAC Bank.
Note: Without your payment, your booking isn't completed, so you cannot obtain an online ticket receipt.
Your payment will be completed immediately, after which you'll receive an electronic copy in your Email.
Please Copy it to your Email and print the original copy from the circulation to prevent it from being lost.
Bangladesh railway's online ticket refund policy
If you are not satisfied with your online ticket purchase, we offer a full refund within 3 days of your purchase.
You can easily request a refund through our online ticket refund system. We guarantee a quick and easy process, and you will receive your refund within 24 hours of submitting your request.
Bangladesh railway online ticket price
Bangladesh railway ticket prices are different. because different destination distances are different.
The cheapest ticket is for a journey of fewer than 100 kilometers, while the most expensive is for a journey of more than 1000 kilometers.
Some people think that the railway system in Bangladesh is very old and needs to be upgraded, but others believe that it's one of the best in South Asia.
Rail sheba app
Rail Sheba is the simplest way to book train tickets in Bangladesh. With Rail Sheba, you can easily search for trains and get the best fares. You can also book your tickets online quickly and securely.
Online train ticket bd
Introducing a new online reservation system for train tickets!
With this system, you can easily book tickets for any train journey in Bangladesh. Plus, you'll enjoy a number of convenient benefits:
Booking is simple and easy – just enter your trip details into our online form!
Get instant confirmation of your booking once it's complete.
No need to queue up at the ticket counter – simply print your ticket at home and you're good to go!
Bangladesh railway online ticket booking time?
Bangladesh railway online ticket booking time is 8 AM to 10 PM.
How can I get an e-ticket from the train?
If you pursue an online train ticket You can get it from your email account or your account dashboard.
How can I open a railway account in Bangladesh?
Online train ticket passengers need will open a railway account on the www.eticket.railway.gov.bd website.
Also Read:
Bangladesh National ID Card Check Online
Prepaid Meter Recharge In Bangladesh
In Conclusion,
online ticketing for Bangladesh Railway is the best way to book your tickets. It's convenient, easy to use, and you can get great deals on tickets. So what are you waiting for? Book your tickets today!
I think your inquiry about Bangladesh Railway online ticket problem is solved.